18 september 2018 | 13:00
To read this article in Dutch click here
One of the companies which helped start IT Arena is N-iX. Whilst we were in Ukraine we also visited them to find out how they operate.
Outsourcing
N-iX is a big company which is specialized in outsourcing. Among other things this means they develop custom software for other businesses. Of course we aren't interested in the boring stuff, just in gaming and N-iX develops them too.
Virtual American Football
Game and vr director Daniel Poludonnyi showed us around in their big building. We are taken to the virtual reality-floor where testing was underway. American Football-teams have requested a virtual training program for their quarterbacks. The program, aptly calles QB SIM, trains the quarterback to throw more accurately. In a darkened room hangs a big net to stop the football. The room has to be dark to make it easier for the camera's to track the football and the vr-glasses. The ball and the headset are covered in reflective stickers to keep taps on their positioning. A nice chauvinistic touch: N-iX uses the vr gloves made by Dutch company Manus VR. It goes to show N-iX looks everywhere to get the best materials to work with.
Stressful throws
They allow me to have a go at it and I can tell you it is pretty tricky. QB SIM simulates reality and it's hard to aim where the ball should go when you are faced with several motivated brutes running straight at you. That seriously messes with my inner peace. Simply throwing a ball at a teammate won't do. You have to throw the ball to the spot your teammate is going to be and where there are hardly any opponents in the way. Because everyone is moving it can be hard to judge. That's to say, I can do this really well, without bulky men blocking my view. Long story short: I need quite some training.
Reset like that
Coaches can enter their strategies via an app and test these right away. The rest of the team can watch on the screens what happens in the simulation and why they have to run in a certain direction. Virtual reality makes it a lot easier to recreate the same situation over and over again.
VR shooter
N-iX also makes virtual reality games themselves. Teleport Battle VR-iX is a multiplayer shooter developed for HTC Vive. You are in a field filled with pillars standing on top of one. You can teleport yourself from pillar to pillar (thus avoiding the nausea one gets from moving in vr) and you are armed. Object of the game is to destroy the pillar your opponent is standing on, getting him or her to fall down. After a few rounds it finally dawned on me: I needed to anticipate where my adversary was going to be instead of focussing on where he was. This made winning a lot easier.
Ads in games
In Teleport Battle you can spot commercials here and there. The Swedish company Advrty sells ads in virtual reality games (thanks to software from N-iX). This makes it easier for developers to offer games cheap or for free. Advertisers can reach their specific target audience in an original way. The ads shouldn't interfere with the gameplay whatsoever and can't be too intrusive. Finding the balance where and when you show commercials is tricky and demands a lot of research.
360 degrees rollercoaster
Another project N-iX is working on, but I wasn't able to test, is a virtual rollercoaster with 360 degrees rotation. It creates an unique experience for visitors and costs very little space to set up. The genius of this concept is, you can offer multiple programs with exactly the same equipment. An enthusiast can get into the Hurricane three times in a row and have three different experiences.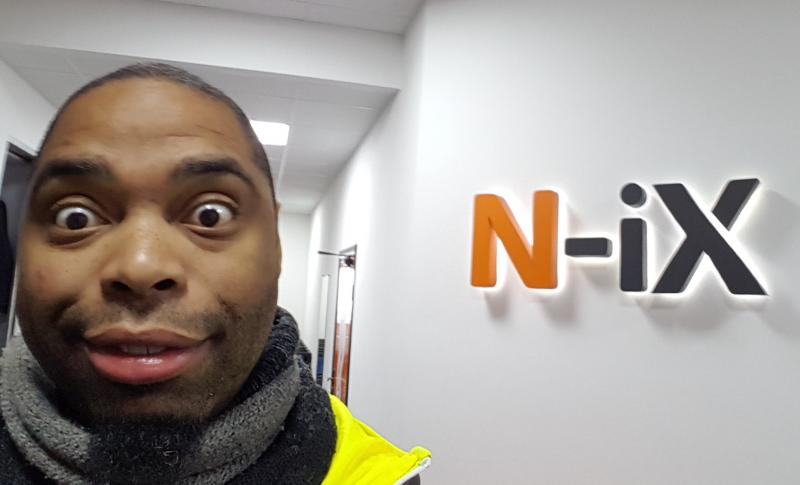 Extensive
The game department is just a small part of the entire enterprise. N-iX is also specialized in big data, cloud solutions, artificial intelligence, aviation, blockchain and a lot more. They also support the University of L'viv with insights and pointing out which areas require more research. Many students also follow an internship at N-iX. Of course N-iX will also be present at IT Arena the end of this month.