Het Belgische telecombedrijf Proximus wordt hoofdsponsor van drie landelijke esport-competities van ESL en Pro League. De games League of Legends en Counter-Strike: Global Offensive (CSGO) zijn vanuit ESL reeds bevestigd. De derde game wordt iets rondom voetbal. Proximus gaat alle wedstrijden op hun platformen aanbieden, maar ook beelden tonen via Facebook, Instagram en Twitch.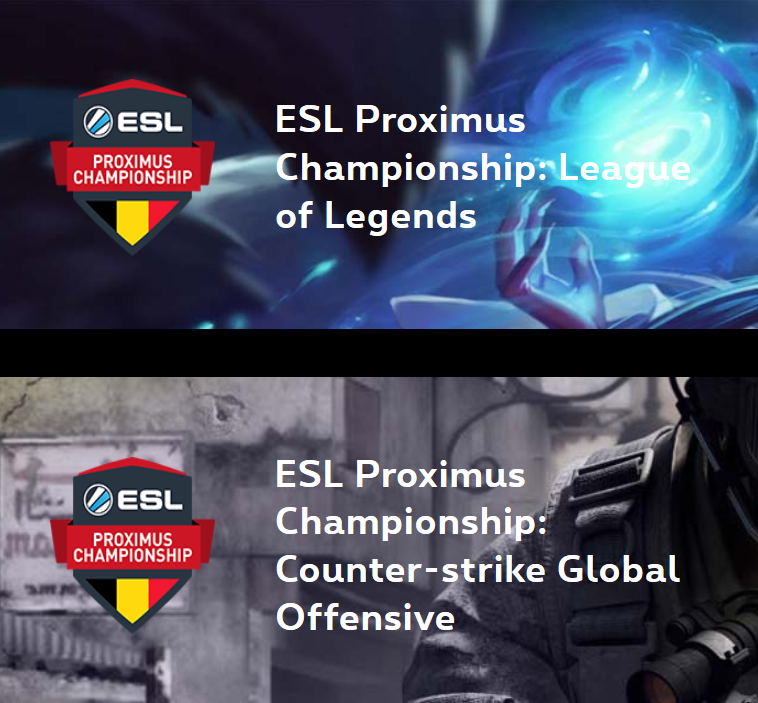 ESL
De League of Legends en CSGO – toernooien beginnen in september en staan open voor iedereen. Ze zijn verdeeld in drie fasen: de online selectie, de groepsfase en het slotevenement. Het is dus ook voor amateurs mogelijk mee te doen voor de prijzen. De energieke League of Legends – caster Eefje "Sjokz" Depoortere is in ieder geval van de partij.
Trying to properly express my support for @FNATIC in the tiebreaker vs TL and fkn @RiotKobe shuts me down HOW DARE YOU 😡😡 #MSI2018 pic.twitter.com/EgEu1bvklj

— Eefje Depoortere (@sjokz) May 15, 2018
Pro League
Er is een akkoord om vanaf november een project met esport-voetbal te doen, maar er zijn verder geen details bekend hierover. Gezien het feit dat in het persbericht ook het nationale FIFA-team de eDevils wordt genoemd, mogen we aannemen dat het een FIFA-toernooi wordt en geen PES.
🎮 #eDevils verliezen eerste interland ooit 🆚️ @efootdefrance 🇫🇷

👀 https://t.co/GPpWNJFUez#FRABEL #eSports #REDTOGETHER 🇧🇪 pic.twitter.com/Jzhekw6YSz

— Belgian Football (@Belgianfootball) May 12, 2018
Uitzendingen
Alle tv-abonnees van Proximus kunnen vanaf juni Esport-TV ontvangen op tv, via hun app en de website. Ook komt er meer aandacht voor esportcompetities van ESL op de Proximus-platformen. De wedstrijden van de drie 'Proximus'-competities worden ook gedeeld via Facebook, Instagram en Twitch, maar of dit met enige vertraging zal zijn is nog niet bekend.
Vodafone
Sinds 2003 werken Vodafone en Proximus op verschillende terreinen samen. Vorige maand werd bekend dat Vodafone een premium partner van ESL is geworden. Vodafone sponsort vanaf nu de Intel Extreme Masters, ESL One en ESL Pro League. Helaas zijn al deze evenementen niet in Nederland. Hopelijk komt daar, onder invloed van eventuele succeservaringen voor Proximus, spoedig verandering in. Vodafone is ook sponsor van het Spaanse esportteam Vodafone Giants en het Duitse Mousesports.
Thanks to our partnership with @ESL, we are giving away 2 pairs of standard and 1 pair of premium tickets to #ESLOne Birmingham.

To enter, simply retweet this and follow @VodafoneGaming. #PlayFaster

Please click here for T&Cs: https://t.co/8hJotKNWMM pic.twitter.com/QSOU0rKPNz

— VodafoneGaming (@VodafoneGaming) May 18, 2018